January 11, 2021
Christopher Babu, a second-year medical student at Weill Cornell Medical College, won the third-place prize at the 2020 Weill Cornell Medical College Research Day, which was hosted virtually this year due to the pandemic. Babu presented a research study he completed with Dr. Theodore Schwartz and neurosurgical residents Joseph Carnevale and Jacob Goldberg, along with Reginald Fong, a neurosurgery resident from Geisinger Medical Center who spent his research year in Dr. Schwartz's lab.
The research, "Causes, Treatment and Prevention of Visual Deterioration after Endonasal Endoscopic Skull Base Surgery," was designed to explore the postoperative vision loss that is a rare complication of endonasal endoscopic transsphenoidal surgery. Under Dr. Schwartz's direction, Babu and the residents looked at 21 patients with vision loss attributed to compression or ischemia. Of the 11 compressive cases, all patients had their vision restored after reoperation; 60 percent of ischemic patients improved with oxygen therapy.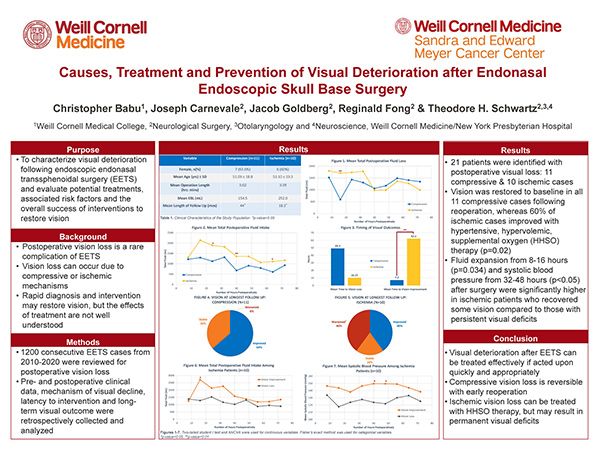 "Chris Babu did an impressive job on the research," says Dr. Schwartz. "Endoscopic endonasal surgery is a rapidly growing field, and it's part of the wave of the future in minimally invasive brain surgery. Complications are very rare, but it's important that we study them so we can learn how best to avoid them,  or reverse them quickly. I'm very proud of the job Chris did on the data collection, analysis, and presentation. The award is well deserved."
The study concluded that visual side effects after endoscopic endonasal surgery can be treated effectively when addressed promptly, and that compressive cases are more reliably reversed than ischemic ones.
More about the Weill Cornell Medicine Neurological Surgery Residency Program