Weill Cornell Medicine provides a highly competitive, demanding environment for neurosurgery residents. Our seven-year program produces some of the top neurosurgeons in the country. About the Program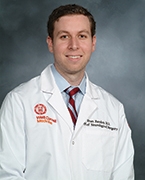 Evan Bander, M.D.
Full Bio
Evan Bander received a biological science bachelor's degree from Cornell University in 2011, with a concentration in neurobiology and behavior. In 2016, he received his M.D. from Weill Cornell Medical College and won the Sidney and Viola Borkon Memorial Prize, awarded annually to the student who places at the top of their class for scholastic performance upon completion of their preclinical curriculum. He was selected for membership in the Alpha Omega Alpha Honor Medical Society in 2015.
Dr. Bander's extensive research experience includes service as a Howard Hughes Medical Institute fellow at Weill Cornell Medicine, during the summer of 2012 as well as during his 2014-15 academic year with Dr. Shahin Rafii in the Ansary Stem Cell Institute. He spent two years working with Dr. Chris Schaffer in the Cornell University Department of Biomedical Engineering, and three summers working with Dr. David Scheinberg in the Memorial Sloan Kettering Cancer Center Department of Molecular Pharmacology and Chemistry. Dr. Bander's extensive list of co-authored, peer-reviewed articles includes several with Dr. Jeffrey Greenfield concerning pediatric brain tumors and with Dr. Theodore Schwartz concerning skull base surgery.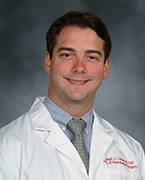 Joseph Carnevale, M.D.
Full Bio
Joseph Carnevale, M.D., is a 2017 graduate of the Brown University Warren Alpert Medical School in Providence, Rhode Island. He received his biology and theology B.A. summa cum laude from Fordham University in 2011, then worked as a hematology and oncology clinical trials data manager at Weill Cornell Medicine and completed an internship with the World Health Organization's Roll Back Malaria Partnership.
Dr. Carnevale was inducted to the Alpha Omega Alpha Honor Medical Society in 2016. He has won a number of impressive awards, including the 2017 Stanley Aronson Award for Excellence in Neuroscience, an American College of Surgeons Rhode Island Chapter Award and a Fordham University Leadership Service Award. Dr. Carnevale's work is frequently published in peer-reviewed journals and presented at scientific conferences and meetings.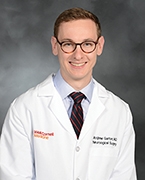 Andrew Garton, MD
Full Bio
Andrew Garton received his MD from Columbia University College of Physicians and Surgeons, where he was a member of both the medical student honor society Alpha Omega Alpha and the Gold Humanism Honor Society. As a medical student, Dr. Garton worked in Dr. E. Sander Connolly's Cerebrovascular Laboratory, where he was awarded a NIH/NIA T-35 grant for his investigation into biomarkers of functional outcome in intracerebral hemorrhage.
Dr. Garton earned his bachelor's degree with honors and high distinction from the University of Michigan, with concentrations in the Psychology, Biochemistry, and Statistics departments. He completed his honors thesis under the direction of Dr. Nestor Lopez-Duran, PhD, investigating cognitive vulnerabilities to depression and the psychoneuroendocrine effects of sleep deprivation, among other projects. Dr. Garton has taught medical students in many roles, including leading workshops for third-year medical students aiming to improve communication skills for doctors having end-of-life and goals-of-care conversations.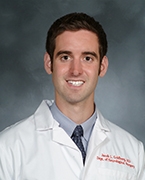 Jacob Goldberg, M.D.
Full Bio
Jacob Goldberg, M.D., is a 2017 graduate of the University of Wisconsin School of Medicine and Public Health. From 2014-15, Dr. Goldberg spent a year completing a Howard Hughes Medical Institute medical research fellowship. He received his medical microbiology and immunology B.S. from the University of Wisconsin-Madison in 2012.
Dr. Goldberg has performed neuroblastoma research at the St. Jude Children's Research Hospital in Memphis and pediatric hematology and oncology research at the University of Wisconsin School of Medicine and Public Health. In addition to frequently publishing and presenting his work, he actively provides community service through mentoring and tutoring initiatives.
Benjamin Hartley, M.D.
Full Bio
Benjamin Hartley received his medical degree in 2015 from the State University of New York Downstate College of Medicine, where he was inducted into the Gold Foundation Humanism Honor Society and was awarded a Downstate Alumni Association research fellowship, multiple American Anatomy Association research travel grants, a Downstate Excellence in Neuroscience Award and a Clinical Neuroscience Pathway Award.
Prior to medical school, Dr. Hartley earned his neurobiology bachelor's degree from the University of Oregon and a biology education master's degree from Fordham University. He has also served with the Teach for America Corps as a science teacher in underserved communities.
Dr. Hartley has enjoyed more than 10 years of research conducted at a variety of institutions, with projects involving C. elegans systems, computational neuroscience, glioblastoma, neurosurgical informatics and molecular memory formation in rodents.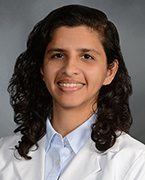 Natasha Kharas, MD, PhD
Full Bio
Dr. Natasha Kharas received her MD and PhD degrees from McGovern Medical School at the University of Texas Health Science Center at Houston. A native New Yorker, Natasha earned her undergraduate degree in neural science (with highest honors) from NYU before enrolling in the MD/PhD program at McGovern, where she was elected to the medical student honor society Alpha Omega Alpha. Dr. Kharas has been working with Dr. Casey Halpern's lab at Stanford University to examine the role of intracranial stimulation in epilepsy, and with Dr. David Sandberg at McGovern on a translational research project examining the safety and pharmacokinetics of injecting the chemotherapy drug panobinostat directly into the fourth ventricle to treat posterior fossa tumors in children. She received an NIH F31 grant for her PhD dissertation research, which examined the neural underpinnings of how sleep improves cognitive performance; she also performed research that examined the neural basis for how unconscious visual stimuli alter behavior.
Gary Kocharian, M.D.
Full Bio
Dr. Gary Kocharian completed his M.D. at Weill Cornell Medical College after receiving a Bachelor of Arts from Rutgers University Honors College. Dr. Kocharian completed an extra year of research during his time at medical school in the Laboratory of Molecular Neurosurgery, where he helped develop a novel method for profiling changes in gene expression in specific populations of brain cells following vector-mediated viral gene therapy. 
Throughout his time at medical school, Dr. Kocharian worked with Dr. Mark Souweidane on a variety of projects to advance the field of pediatric neurosurgery. He has also served as president of the Weill Cornell Medical College student chapter of the American Association of Neurological Surgeons. An avid musician and athlete, Dr. Kocharian is also fluent in multiple languages.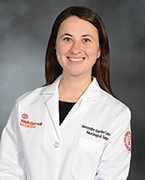 Alexandra Giantini Larsen, MD
Full Bio
Alexandra Giantini Larsen is a graduate of Harvard Medical School, where she was vice president of the AANS medical student chapter and co-president of the Harvard Medical School chapter of the Association of Women Surgeons. She earned her bachelor's degree with honors in Molecular and Cellular Biology at Johns Hopkins University.
Dr. Larsen spent a year as a Howard Hughes Medical Institute Medical Research Fellow in the laboratory of Dr. E. Antonio Chiocca, Chairman of Neurosurgery at Brigham and Women's Hospital in Boston, where her research was focused on viral therapies for glioblastoma. She also has spent time as a researcher in the Vascular Biology Program at Boston Children's Hospital with Dr. Edward Smith and in the Brain Tumor Stem Cell Laboratory at Johns Hopkins Hospital with Dr. Alfredo Quinones-Hinojosa. She was an observer in our own department during her college years, when we recognized her emerging talents, and we are delighted to have her join us for her residency.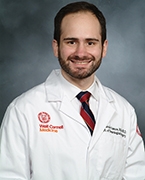 Alexander D. Ramos, M.D., Ph.D.
Full Bio
Alexander D. Ramos received his bachelor's degree in biochemistry summa cum laude from Washington University in St. Louis in 2008. In 2014 he received a Ph.D. in biomedical sciences from the University of California, San Francisco, where in 2016 he received his M.D.
Dr. Ramos has an extensive list of publications and awards to his credit. He was the Washington University Alejandro Ramirez Scholar in 2004, and was awarded a Howard Hughes Medical Institute Summer Undergraduate Research Fellowship in 2007. He has also been awarded an NIH Medical Scientist Training Fellowship, a California Institute for Regenerative Medicine Training Grant, and an NIH F31 Training Grant. His peer-reviewed publications include work investigating the roles of long noncoding RNAs in neural development and glioma progression, the regulation of neuronal differentiation of embryonic and postnatal neural stem cells, and astrocyte-to-neuron reprogramming.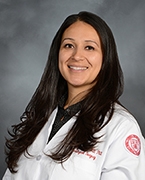 Maricruz Rivera, M.D., Ph.D.
Full Bio
Dr. Maricruz Rivera completed her M.D. and Ph.D. at the Case Western Reserve University School of Medicine. Her Ph.D. work centered around mechanisms by which glioblastoma develops resistance to radiation therapy; in particular, she explored novel pathways activated in gliomas that repair damaged DNA and prevent DNA damage responses necessary for inducing tumor cell death following radiation. Dr. Rivera received her biochemistry undergraduate degree from the University of California, Riverside, where she also continued to work with developmentally disabled adults at a state-licensed care home that she founded while in high school.